Overview
Your views can make a difference; we want to hear from you!
CITB adopts best practice by consulting with construction employers on the proposals for the CITB Levy. Now is your opportunity to give your feedback on the Levy Proposals for the next three years as well as ten areas we've identified with the greatest need for enhanced employer support in developing skills.
This consultation is in respect of the 2022 Levy Order for the Levy Proposals 2022-25. Once a Levy Order is approved by Parliament, this enables CITB to issue Levy Assessments for the period of the Order.  
Your feedback on the Levy Proposals is important as later this year we'll confirm our plans and the final Levy Proposals 2022-25. This is when we go to Consensus. This diagram shows how consultation on the Levy Proposals plays an important role in the Consensus process.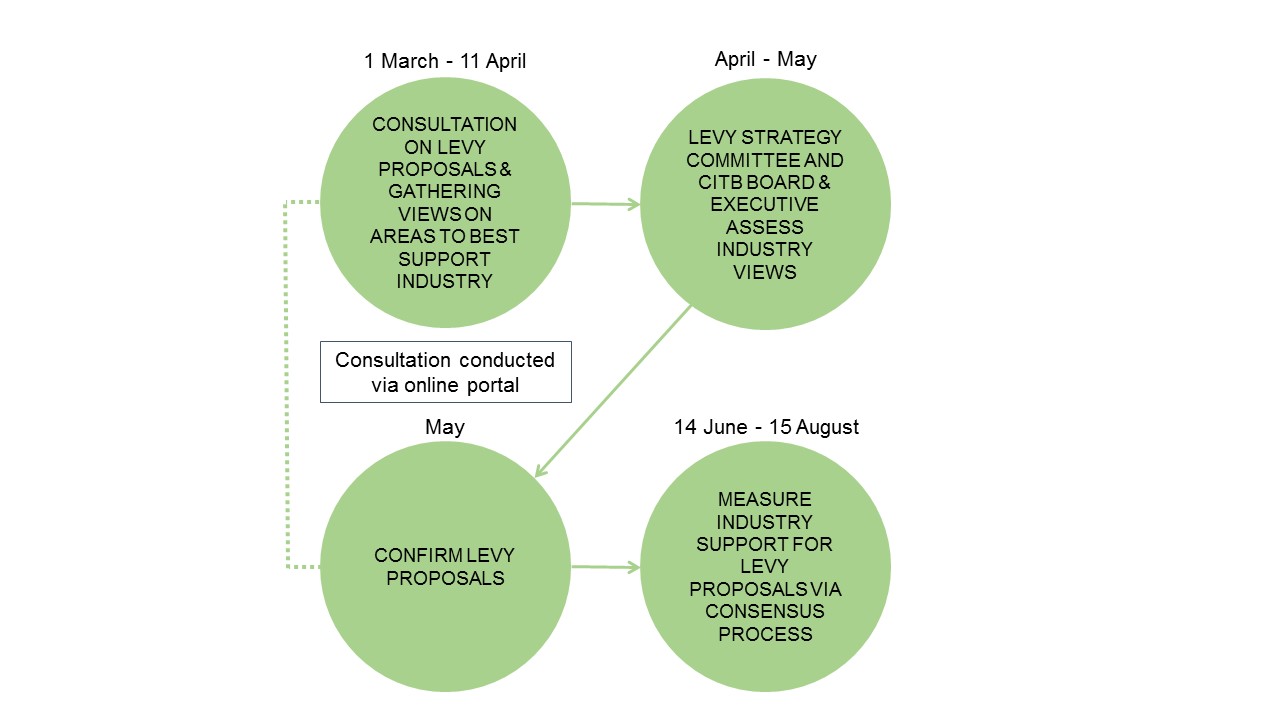 Giving us your views should only take about 10 minutes.
How it works
To take part you need to be Levy registered and we can only accept one submission from each Levy registered employer, if you have multiple Levy registration numbers you can use any of them. Your submission must come directly from a senior representative of the company; we reserve the right to remove submissions that appear to have been sent from the same IP address.
By agreeing to complete this questionnaire you are agreeing that we can process and analyse the personal information that you provide to us and can link this with data held by CITB on the business profile linked to your Levy registration number. For example, we will use this information to see if any groups of employers are especially affected by CITB's proposals, but we will not identify individuals when reporting our findings.
The 'Save and return later' feature will allow you to return to the consultation at a later date without losing the information you've already entered. You need to have cookies enabled in your web browser to use this feature.